The Best EV Charging Station App in India
FIND. CHARGE. DRIVE.ON-THE-GO
Charge your electric vehicle from a network of over 300+ charging stations across India with our EV Charging App - Charzer! Find any EV charging station available in your city within a few clicks with the best EV charging app in India.
SAY GOODBYE TO EV CHARGING PROBLEMS WITH 3 SIMPLE STEPS
Download Our EV Charging App
Locate The Nearest Charging Point
FIND CONVENIENCE IN THE PALM OF YOUR HANDS
CHECK PRICE BEFORE-HAND AND PAY THROUGH THE APP
Checkout affordable prices transparently beforehand and pay with various modes within the app, We don't have any hidden changes.

BOOK A CHARGING SLOT AT A CONVENIENT TIME
Have urgent matters to attend to but need to charge your vehicle? Pre-book a slot at the most convenient time and get on with your work.

FROM SCOOTER TO A CAR, CHOOSE YOUR TYPE
Find, plug and forget.
Charzer is compatiable with all kinds of electric vehicles.
So go out stress-free.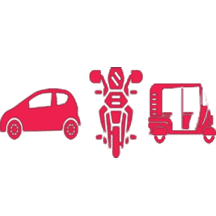 INITIATE AND MONITOR CHARGING THROUGH THE APP
Start charging and monitor your charging session real-time through the app. Our IoT-enabled EV charging stations connect directly with the app to showcase data transparently

YOU'RE READY TO ROCK THE ROAD!
Have an electric vehicle? Congratulations! You are saving the planet. At Charzer, we are passionately creating a vast network of charging stations across India and providing a sleek and simple charging experience to you through Charzer - our EV charging app.
Now #SwitchToElectric with confidence and travel stress-free!
#CharzerHaiNa